Custom Software, Web & Mobile App Development to Transform and Grow Your Business
Helping companies create business value by acquiring and retaining customers with user friendly application development
Creators of Multi-Million Dollar Custom Software, Web & Mobile Applications
Digital Signage Solution
Australia's first plug & play cloud-based digital signage solution.
Integrated with point-of-sale systems over thousands of venues.
Multi-platform support - Android, ChromeOS & Windows.
Read the case study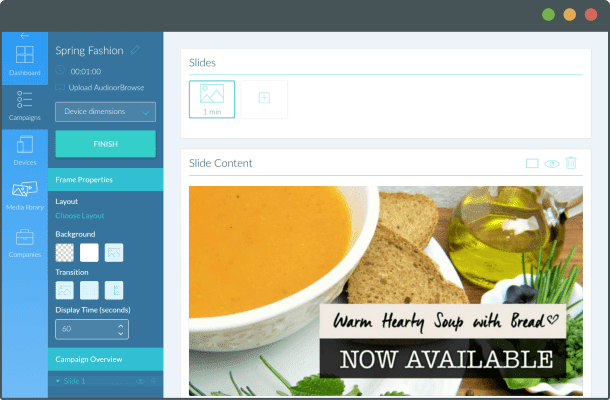 Services we offer
Custom Software, Web & Mobile Applications
We create custom-fit flexible web and mobile app software solutions, whether you want to modernise your legacy systems or build something new. Our highly-skilled software developers and designers create engaging and interactive web and mobile apps for all platforms and devices.
Development for Startups
We partner with entrepreneurs to bring their business ideas to life. We develop an initial minimum viable product (MVP) prototype app solution to test the business idea and beyond. We understand the unique challenges startups face and adjust to meet their special needs in creating custom web and mobile app software solutions.
Product Strategy & Design
We help translate your business idea into a functionally specific, web and mobile app solution. We take a holistic view of your idea and assess it from a software development, architecture and technology perspective.
---
The process
Strategy.
Our team of experts will create a software development plan and blueprint encompassing the project goals, success metrics, user experience, design, and technology to drive business value and maximize your ROI.
User experience.
We create an exceptional user experience to drive user acquisition and retention by applying information architecture, interaction design, user interface design, and visual design approaches.
User interface.
Our UI team designs engaging interfaces to bring the best user experience to life using best practices combined with the latest technology.
Development.
We transform your business idea into a functional, secure and scalable software, web and mobile application through comprehensive technical architecture, high-quality code using an agile software development methodology.
Testing & Quality Assurance.
With our QA strategy and methodology, we ensure high-quality results with our deliverables. Using the best tool and technologies, we offer a wide range of QA and testing services including unit and automation testing.
Launch & Maintain.
After all the hard work is done, we launch your new custom software solution with ease and ensure a smooth transition. We continually monitor and maintain your software to ensure optimum performance.
---
---
Why choose PLYCODE?
Tailored solutions
We've worked on a variety of projects with a wide range of clients, each with a unique problem set and perspective.
We value relationships
When we take on a project, we spend time to understand the vision and goals to develop products that are built for scale and are future-ready. Our relationship doesn't end at app delivery, but continues through ongoing support.
Experienced
Ten years in web and mobile app development have allowed us to craft a development process that ensures high quality at rapid speed.
---
Featured in

What our customers say
As non-technical people, working with Plycode was fantastic. We worked with Plycode's team over a two month period, where they first of all learned about our end-user requirements, and then helped us get an understanding of the data flow requirements of our project. This helped us re-shape a lot of the front end screens to ensure simplicity and clear logic of information and data flows. We would definitely use them again in the future
– Matt Slutzkin, Co-Founder – Array
BUCKiTDREAM engaged Hashi Kaar and his Plycode team in early 2017. Our core need was to find a worldclass local engineering team that could architect and engineer BUCKiTDREAM Future Intention Data Platform. Hashi and his team have exceeded our expectations and demonstrated total alignment and passion. Even better the BUCKiTDREAM platform has been tested by worlds best brands, media and merchants. A seamless technology partnership that continues today and I can highly recommend to local ventures who are thinking global.
– Tim Carroll, CEO – BUCKiTDREAM
Great company to work with, fully understood the requirements of our business and custom built a solution that satisfied our customer base and met the needs of the market. Would highly recommend
– Michael Shadbolt, BDM – Bluflow
It has been an absolute delight working with Plycode. Our projects have had some serious hurdles to overcome and due to their methodical approach, the Plycode team were able to steam through with an outcome that was beyond the proposed scope on a number of occasions. The synergies experienced during our past and current brainstorming sessions are what defines the success of not just our projects, but our business as a whole. Massive kudos to such a great team!!
– Adam Delon, CEO – Meshifi
Chat with us if …
You want to re-develop your legacy software, web or mobile application.
You already have a product idea and want to turn it into a software application.
You are a startup or entrepreneur and want to bring your business idea to life.
✕
Ready to have a chat?
We'd love to speak to you. Call us on 1300 84 84 48 or send us a message below.