We specialise in mobile app design and development to build products that delight your users and grow your business.
iOS, Android & Hybrid Mobile Apps
Developers of Multi-Million Dollar Mobile Applications
We design
We develop
We deploy
Digital Signage Solution
Australia's first plug & play cloud-based digital signage solution.
Integrated with point-of-sale systems over thousands of venues.
Multi-platform support - Android, ChromeOS & Windows.
Read the case study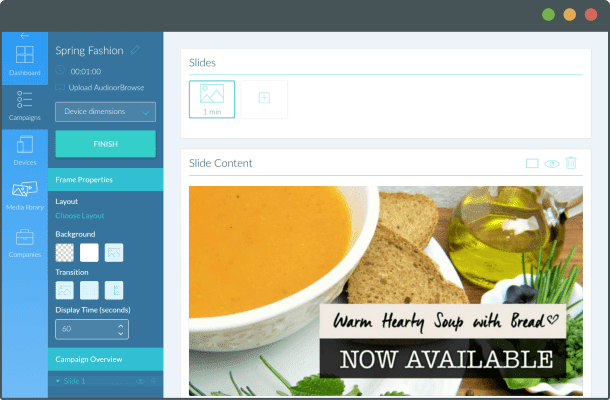 Decade long expertise in mobile app development
Strategy and planning
Our UX designers, engineers and product managers have years of hands-on expertise in building and launching world class mobile apps.
Our process of building great apps starts in our workshop. We start by listening to the requirements and goals to help shape our design process, with our clients as partners every step of the way. Our workshop will assist us to create a scope of work and provide you with an accurate mobile app development cost.
UX design
Our team of skilled mobile application designers create exceptional user experience by applying information architecture, interaction design, user interface design, and visual design approaches.
Mobile app development
Our diverse team provides native or cross platform mobile app development on all major platforms and devices (iOS, iPhone, iPad, iPod Touch, Android) — combined with scalable backend cloud services.
Full stack development
We offer integrated in-house development, covering all the components of your mobile app, from front-end to back-end, design to product management.
Optimization and maintenance
Whether you need a minimum viable product (MVP) or an enterprise mobile app developed, we implement a robust, scalable and flexible build process to continuously improve and future proof your app.
---
Why choose PLYCODE?
Creators of multi million dollar apps
We have a talented team that strives to build successful products. We developed the Number 1 bucket list app, with millions of dreams created and shared.
Decade long expertise
Experienced agency with a decade long expertise in creating both native and cross-platform mobiles for enterprise firms and early stage startups across many continents.
Local software development team
We're a Melbourne-based mobile app development company that services all over Australia.
We understand business
We know what it takes to build a successful business. Our consultants will advise you on the appropriate steps to take in order for your business grow with the app you've developed.
100% Projects Completed Successfully
---
Featured in

What our customers say
As non-technical people, working with Plycode was fantastic. We worked with Plycode's team over a two month period, where they first of all learned about our end-user requirements, and then helped us get an understanding of the data flow requirements of our project. This helped us re-shape a lot of the front end screens to ensure simplicity and clear logic of information and data flows. We would definitely use them again in the future
– Matt Slutzkin, Co-Founder – Array
BUCKiTDREAM engaged Hashi Kaar and his Plycode team in early 2017. Our core need was to find a worldclass local engineering team that could architect and engineer BUCKiTDREAM Future Intention Data Platform. Hashi and his team have exceeded our expectations and demonstrated total alignment and passion. Even better the BUCKiTDREAM platform has been tested by worlds best brands, media and merchants. A seamless technology partnership that continues today and I can highly recommend to local ventures who are thinking global.
– Tim Carroll, CEO – BUCKiTDREAM
Great company to work with, fully understood the requirements of our business and custom built a solution that satisfied our customer base and met the needs of the market. Would highly recommend
– Michael Shadbolt, BDM – Bluflow
It has been an absolute delight working with Plycode. Our projects have had some serious hurdles to overcome and due to their methodical approach, the Plycode team were able to steam through with an outcome that was beyond the proposed scope on a number of occasions. The synergies experienced during our past and current brainstorming sessions are what defines the success of not just our projects, but our business as a whole. Massive kudos to such a great team!!
– Adam Delon, CEO – Meshifi
✕
Ready to have a chat?
We'd love to speak to you. Call us on 1300 84 84 48 or send us a message below.